Taylor Jensen has written and directed a new play.
Double Feature Night at the Southern: Lively Pages by Taylor Jensen AND Sarah Ruhl's Eurydice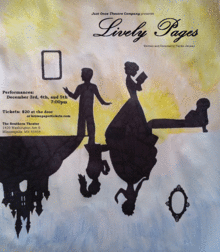 Brown Paper Tickets – The first and only fair trade ticketing company!Two companies, one space–a double feature night at the Southern theatre! Join us for Just Once Theatre Company production of Taylor Jensen's Lively Pages and A-Stage's production of Sarah Ruhl's Eurydice December 2, 3, 4, 5: Lively Pages at 7:00pm, Eurydice at 8:30pm.